Start IPNR using your working single ethernet config file. Follow these steps:
Bring down the interface from the built-in ethernet to the LAN. Do this by highliting that row, uncheck the "Bring Up" box, and click "Add." Note that when there was only one ethernet port, it was labeled "Ethernet." Now with the new card installed, IPNR automatically refers to it as "Ethernet built-in." Clever.
Keeping this same interface highlited, use the "Configure Interface" controls to select the new ethernet port, check "Bring Up," then click "Add." You will see that, rather than modifying the highlited interface, a new interface is created in an empty row. The IP address and Mask should be identical to the downed interface. See my example to the right.
Note that you do not need to alter the interface which communicates with the cable modem; even though its connection to your Mac is now direct and not thru the hub, logically, nothing has changed.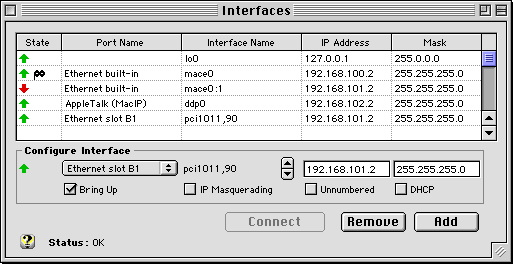 Note: the specific settings in the "Configure Interface" part of the above window are purely a function of when I grabbed my screen shots, and are not intended to teach or confuse.